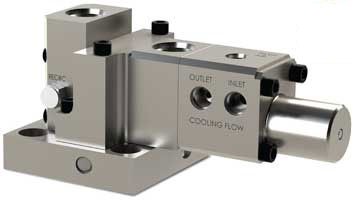 The JASC Water Cooled Three-Way Purge Valve was engineered to prevent liquid fuel coking that typically occurs when valves are exposed to heat for extended periods of time while the turbine is operating on gas fuel.
JASC's new and improved Water Cooled Three-Way Purge Valve features internal cooling paths in the housing, spool and flange to keep critical components below the liquid fuel coking threshold. All-stainless steel construction provides increased corrosion resistance.
Like the original Three-Way Purge Valve, JASC's new Water Cooled Three-Way Purge Valve is a spool valve. This configuration combines purge air and fuel flow in a single package. The valve has a large fuel flow passage resulting in low pressure drops for high efficiency and the ability to pass large particulate contamination.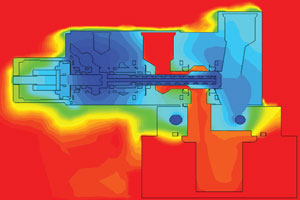 JASC designed seals specifically for this application—one in which the valve may have to sit dormant for up to a year without leakage and then switch immediately to flow liquid fuel. A special polymer was developed that is contamination tolerant and maintains its ANSI Class 6 sealing capability.
JASC's Three-Way Purge Valves are designed to have a long operating life and can be refurbished, resulting in a lower total cost of ownership.
Right-click and Save As to download information flyer.
Interested? Contact JASC today for more information.