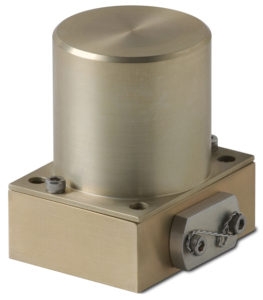 JASC'S Single-Stage Clevis Servo Valve is manufactured in a number of configurations. This Clevis Servo Valve is used to meter fluid or for position control. Its inherited pressure balance results in low electrical power consumption (1.0-watt max). The JASC Clevis Servo Valve is capable of 2-way or 3-way operation and offers mechanical or electrical feedback. It offers other benefits such as low hysteresis and threshold.
JASC's servo valves began production in 1991. JASC has since produced over 7,000 Clevis Servo Valves. JASC rigorously tests every Clevis Servo Valve to ensure each one performs to the customer's performance specifications. The execution of JASC's testing program has resulted in over 60,000,000 hours of trouble-free service during field operations.
JASC Clevis Servo Valves can be refurbished, returning the valve to its original operating condition. This lowers the total cost of ownership significantly over servo valves that can't be refurbished.
Development of the JASC Clevis Servo Valve has resulted in a series of design configurations, such as the Flapper Nozzle and FlexJet® Servos, which are used in applications such as animatronics and underwater marine environments.
If you'd like to view JASC's Single Stage Servo Valve technical drawings, you can request them here.
Click here for more information about JASC's Single-Stage Clevis Servo Valve.
| Specifications | |
| --- | --- |
| Return Pressure | |
| Operating | 50+/- 20 PSIG |
| Proof | 180 PSIG |
| Burst | 300 PSIG |
| Supply Pressure | |
| Operating | 300 +20 – 0 PSIG |
| Proof | 1000 PSIG |
| Burst | 2000 PSIG |
| Electrical Rated Current | 0 to 100 mA |
| Null Current | 0-60 mA |
| Flow Gain | 150 PSID @ C |
| C to R | 1.85 GPM Min @ 90 – 100 mA |
| P to C | 1.85 GPM Min @ 0 – 10 mA |
| Pressure Gain | 15 PSID/mA min |
| Null Leakage | 0-0.25 GPM max with Stoddard |
| Hysteresis | 5% max |
| Frequency Response | No self-induced oscillation throughout operating extremes: 90° Phase Shift @ > 50 Hz |
| | +1 DB max to 200 HZv |
| | -6 DB max @ 90° Phase shift frequency |
| Ambient Temperature Range | |
| Operating | -40°F to +300°F |
| Non-Operating | -67°F to +392°F |
| Transients | Up to 392°F for 5 minutes |
| Construction Materials | Aluminum Alloy, Nickel Iron |
| Weight | 1 lb |
| Part Number | 101109 |