JASC provides refurbishment services for many of its power generation products.
The valves are completely reconditioned to like-new, offering considerable savings over the cost of a new valve. JASC warranties reconditioned products to be free of material and workmanship defects for one year after refurbishment.
JASC industrial gas turbine hardware is designed for reliability and long life cycles.
Because of the extreme operating environment, it becomes necessary for many turbine components to be replaced or refurbished on a scheduled basis.
The process begins by contacting JASC about the product in need of refurbishment. JASC provides a price quote and Return Material Authorization (RMA) identifying the product and customer information.
Customers may then ship the hardware to JASC after receiving the RMA number and JASC's receipt of the customer's purchase order.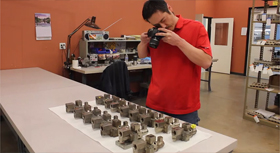 After receiving the hardware, JASC technicians perform a receiving inspection including photo documentation of the hardware. This consists of visual inspection before disassembly and after the valves are disassembled. Additionally, the valves are checked for leaks on air. This process allows the customer to review the reported findings and, if warranted, take a second look at their turbine or sub-systems to correct any issues.
The product is then disassembled, thoroughly cleaned and reconditioned.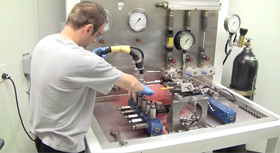 If reconditioning is not possible, individual components are replaced as necessary with new. All refurbished hardware comes with 100% new seals.
Each unit is reassembled, undergoes a leakage check and then the full acceptance test procedure to ensure performance in accordance with the customer's specifications, just like all brand new JASC valves.
Finally, the product is packaged for shipping and returned to the customer.
Contact JASC today with your refurbishment inquiries.
For more information contact sales@jasc-controls.com