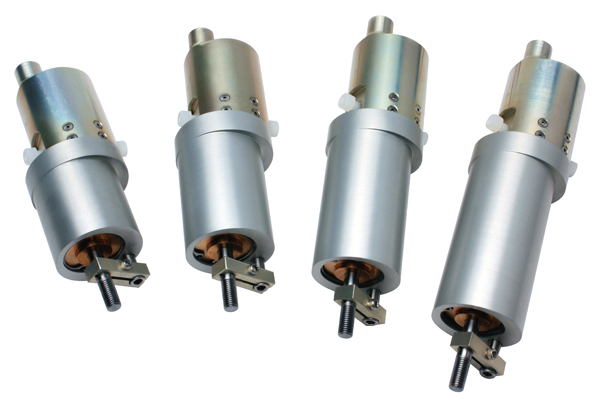 Utilizing a single-coil design with 0-10 VDC input, this pneumatic FlexJet® servo-actuator provides powerful position control up to 2" that is directly proportional to input voltage. An internal spring provides position feedback to the servo, resulting in exceptional control capabilities in a small package.
The 1-inch bore unit is available in .5-, 1.0-, 1.5- and 2-inch stroke lengths. Male and female threads (1/4-28 UNF) on each end are ready to accept a rod end or other bearing device.
1.5- and 2-inch bore actuators are also available.
FlexJet® Pneumatic Product Ordering Guide
| Performance Characteristics | |
| --- | --- |
| Media | Dry Air, Nitrogen |
| Flow Rate | 0.8 SCFM @ 100 PSIG |
| Filtration | 25 Micron Absolute |
| Temperature | -20 F TO 160 F, Using Dry Air, Nitrogen |
| Operating Pressure | 80 TO 160 PSIG |
| Proof Pressure | 250 PSIG. |
| Burst Pressure | 425 PSIG |
| Electrical: | |
| Coil Resistance | 250 15 OHMS |
| Current | +20mA / -20mA |
| Connectors | #24 AWG Teflon Insulated Flying Leads, 14 Inches Min. Length |
JASC Actuators
(Scroll table horizontally for full details.)

| Part No. | Working Fluids | MEOP (psig) | Stroke (in) | Static Force (lb) (RET/EXT) | Retracted Length (in) | Unloaded Frequency Response (Hz) | Approximate Dimensions (in) | Dry Weight (lb) | Notes: |
| --- | --- | --- | --- | --- | --- | --- | --- | --- | --- |
| 101405-1 | MIL-PRF-83282, MIL-H-5606 | 3000 | 2.35 | 11000/13500 | 12.95 | 5.1 @ -3 dB | 18H X 4.5W X 14.1 NOM L | 12.8 | Includes feedback device (LVDT) |
| 101413-1 | MIL-PRF-83282, MIL-H-5606 | 3000 | 6.60 | 27500/32500 | 18.70 | 4.4 @ -3 dB | 10.7H X 6.3W X 22.0 NOM L | 29.2 | Includes feedback device (LVDT) |
| 101424-2 | MIL-PRF-7024, MIL-H-5606, RP1 | 1500 | 2.86 | 5000/7100 | 13.68* | 6.0 @ -3 dB | 7.6H X 4.4W X 15.1 NOM L | 13.5 | Includes feedback device (LVDT) |
| 101424-4 | MIL-PRF-7024, MIL-H-5606, RP1 | 2000 | 2.86 | 6660/9460 | 13.68* | 9.0 @ -3 dB | 7.6H X 4.4W X 15.1 NOM L | 13.5 | Includes feedback device (LVDT) |
| 101552-1** | MIL-PRF-83282, MIL-H-5606 | 1500 | 1.70 | 515/550 | 9.20 | 2.5 @ -3 dB | 3.3H X 2.2W X 10.1 NOM L | 1.7 | Includes feedback device (Linear Pot.) |
| 101622-2 | MIL-PRF-83282, MIL-H-5606, MIL-PRF-7024 | 3000 | 6.10 | 10750/13250 | 16.72 | 8.0 @ -3 dB | 7.4H X 4.4W X 17.8 NOM L | 14.1 | Includes feedback device (LVDT) |
| 101730-1 | MIL-PRF-7024, MIL-H-5606, RP1 | 1800 | 3.71 | 15000/15800 | 13.37* | 10.1 @ -3dB | 11.5H X 6.0W X 16.9 NOM L | 19.8 | Incorporates passive hydraulic lock device & LVDT |
| 101850-X | MIL-PRF-83282, MIL-H-5606, MIL-PRF-7024 | 3000 | 6.1 | 10750/13250 | 16.72 | 8.0 @ -3 dB | 7.8H X 4.4W X 17.8 NOM L | 14.3 | Includes feedback device (LVDT) |
* No rod end
** Matched Electronic Control Unit available