In January 2004, JASC was awarded an order to supply General Electric Aircraft Engines with a version of their high-speed servo valve (HSSV). This valve is an application used to control combustion instability in one of GEAE's experimental lean-burn gas combustors. Several of these HSSV's will be used to comprise the JASC Active Combustion Control Valve (ACCV) that will ultimately be integrated into the GEAE test engine's fuel control system. Testing of the ACCV system is scheduled to begin 1Q04.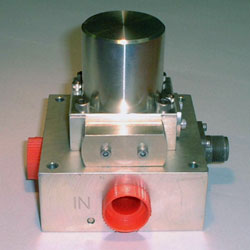 A similar Active Combustion Control Valve has been developed by JASC to attenuate undesirable pressure pulses within the combustion chamber of a turbine engine. This unit has successfully operated at 400 HZ in a gas turbine combustion chamber test rig.
For more information on the state-of-the-art technology that JASC produces, please contact us by phone at 602.438.4400, e-mail at engineering@jasc-controls.com.
Printable .pdf version (requires the free Adobe Reader)