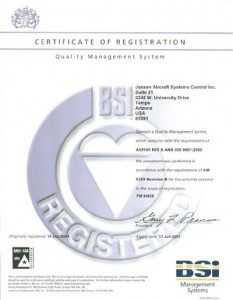 JASC, Inc., located at 2245 W. University Drive, Ste. 21 in Tempe, Arizona, has become registered to ISO9001:2000 and AS9100, Rev. B. The registration is effective June 18th, 2004.
JASC employs some 25 personnel providing customer satisfaction through total program management of OEM products. The company has been in business since 1991.
"We wanted to implement a system to improve our internal processes as well as become more attractive to our customer base, which allows us to become a supplier of choice," states JASC President and CEO Harvey Jansen. "We feel that ISO and AS9100 registration is key to the company's future success."
Jansen's Aircraft Systems Controls, Inc. designs, manufactures, and repairs engine fuel controls, servo valves, servo actuators, and various fluid control components for aerospace, commercial, and industrial applications.
Printable .pdf version (requires the free Adobe Reader)