The JASC Corporation continues its tradition of excellence in quality system management as evidenced by the recently completed ISO 9000:2000 and AS9100 reassessment audit in March 2007. The scores since registration have consistently been in the 95 percentile, each year showing continual quality system improvement. Once again, portions of the system were deemed "best in class" by the auditor, particularly the system of Internal Process Auditing.
"Our people have really embraced the system," says JASC president and CEO, Harv Jansen. "They are beginning to come forth with suggestions that have far reaching improvements for the entire system, and it is beginning to pay dividends with increased business opportunities." The successful implementation and improvement of the quality system has opened up many opportunities domestically and abroad. As JASC begins to break into these markets, ISO and AS9100 are key requirements. In the overwhelming majority of the cases, evidence of ISO certification relieves the need for the additional scrutiny of completing questionnaires and onsite audits, saving the company precious time and energy.
For additional information on the company's quality system, contact Emerson Turner, JASC Quality Manager.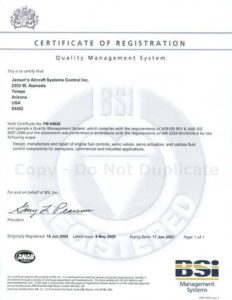 Printable .pdf version(requires the free Adobe Reader)