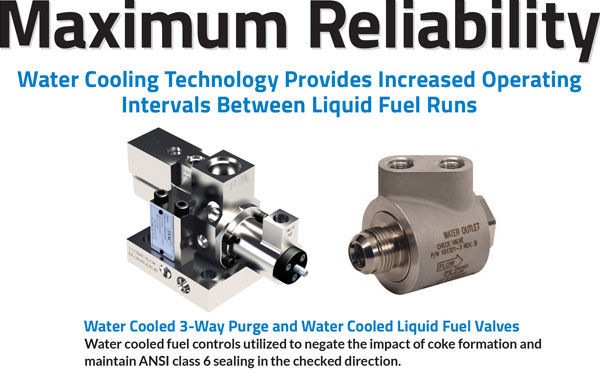 In one case, JASC Water Cooled Liquid Fuel Check Valves have operated on two 7F dual fuel machines for almost two years without issue. Operation on liquid fuel was only performed when required, not to exercise the system.
A second set of four DLN 7EA turbines outfitted with JASC Water Cooled 3-Way Purge Valves have operated since November of 2013 without a valve failure. While only one set of valves have been removed for service, due to a scheduled C.I., the turbine successfully performed 23 of 25 fast starts over this four year period. (Note: the customer insulated fuel piping on this application as Heatsink Clamps were invented in 2016).
Next, seven 7FA's were upgraded to JASC Water Cooled 3-Way Purge Valves during 2017, with a total of six completed in December of 2017. Four of these turbines have accumulated in excess 7000 hours of operation on gas and approximately 300 hours of operation on liquid fuel over a three month period. A set of 14 valves removed from one of these turbines, for a C.I., were described by the customer as looking brand new. The difference in performance is profound. In a previous application, before the implementation of JASC Heatsink Clamps, six weeks of operation on natural gas was long enough to degrade stagnant liquid fuel to the point where its viscosity was the consistency of tar and attempts to burn fuel would result in high exhaust temperature spreads, flame out and exhaust temperature trips.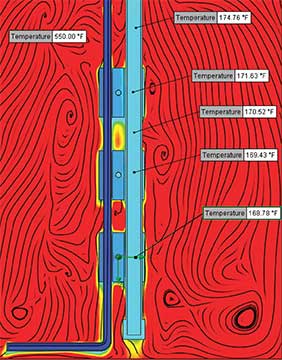 The limits of gas operation for JASC Heatsink Clamps has not been determined at this point. CFD data suggests that fuel should remain pristine over significantly long periods of time. Given that one of our latest installations will not run on liquid fuel unless called upon, we anticipate that our customer will run strictly on natural gas for the next six months of their summer season.