With the first A380 flying daily between Singapore and Sydney, Airbus has delivered the second A380 to Singapore Airlines this month. Each A380 has a Pratt & Whitney Canada PW-980 APU (Auxiliary Power Unit) installed in its tail. JASC designed and builds the Fuel Metering Valve and Inlet Guide Vane Actuator used on the PW-980.
The APU provides power for such things as the air conditioning, hydraulic systems and the plane's electronics when the main engines are not running. This also includes the capability of providing emergency power during flight.
JASC's extensive design experience with aerospace fluid controls as well as fueldraulic and pneumatic actuators have led to numerous design innovations that are helping expand the envelope of powered flight. From providing control components on commercial aircraft (Airbus A320 and A380, Boeing 717 and 787) to our cutting edge fuel control and actuator innovations (used on NASA's X-43A Hyper-X and SED X-51A and the ONR RATTLRS program), we're helping pave the path to the future in aerospace.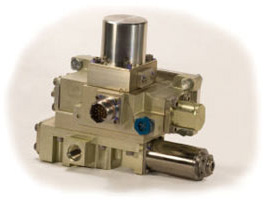 Printable .pdf version (requires the free Adobe Reader)