On May 1, 2004, JASC delivered their Active Combustion Control Valve to General Electric Aircraft Engines. This system will be integrated into GEAE's fuel system for use with an experimental lean-burn liquid fuel turbine engine in an effort to control and suppress combustion instabilities that may exist in the engine's combustor.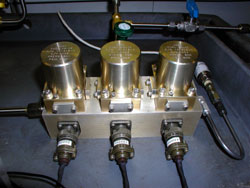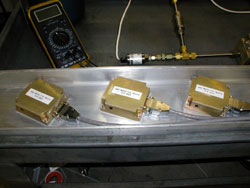 At the heart of the system are three of JASC's patented High-Speed Servo Valves (HSSV's), which have demonstrated response within 5 dB to 550 Hz and within 10 dB to 600 Hz using liquid fuel in laboratory testing at JASC.
GEAE plans to evaluate the system on their test rig throughout the month of May 2004.
Printable .pdf version (requires the free Adobe Reader)